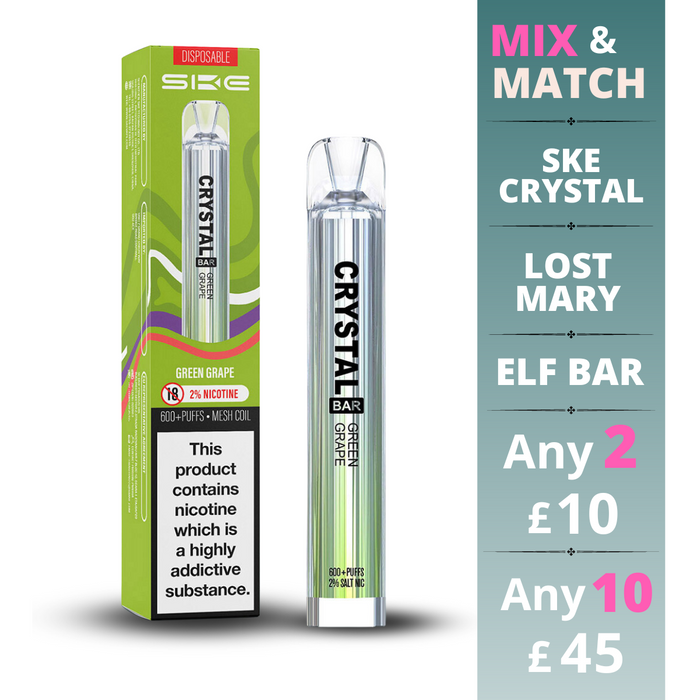 Green Grape SKE Crystal Bar
Original price
£5.99
-
Original price
£5.99
The Green Grape SKE Crystal Bar 600 combines the fresh juiciness of pressed green grapes and combines this will a salt nicotine formulation to provide a mouth-watering and satisfying vape.
KEY FEATURES:
Green grape flavour
2ml e-liquid
500mAh battery
600 puffs
Draw activated
50VG/50PG
Suitable for MTL vaping
MORE ABOUT THE SKE CRYSTAL BAR 600 DISPOSABLE VAPES
The SKE Crystal Bar 600 Disposable Vapes will provide around 600 puffs thanks to the 500mAh battery and prefilled e-liquid (2ml).
These disposable vapes are also prefilled with 20mg salt nicotine, also known as nic salts - this form of nicotine is popular as it absorbs into the bloodstream faster than freebase nicotine, satisfying your nicotine cravings faster. Nic salts also deliver wonderful throat hits that favour a real cigarette.
There are plenty of mouth-watering flavours for you to choose from including Lemon & Lime and Strawberry Burst!
PACKAGE CONTENTS:
1 x Green Grape SKE Crystal Bar 600 Disposable Vape