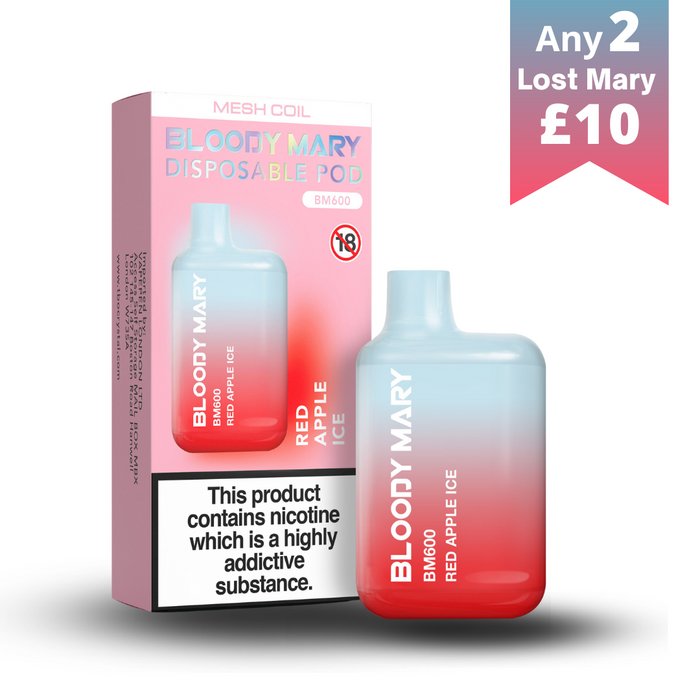 Red Apple Ice Lost Mary BM600 Disposable Vape 2%
Original price
£5.99
-
Original price
£5.99
The Elf Bar Lost Mary BM600 Red Apple Ice Disposable Vape Pod captures the tart notes of Red Apples. Paired with a frosty aftertaste to create the ultimate cool vaping experience. There's no doubt that this sweet and icey blend will excite the taste buds of all who try it!!!
The Elf Bar Lost Mary BM600 vape pen is a simple vaping device. Designed to be used by experienced and novice vapers alike, this is an easy to use pod with no need to change any coils or fill a tank with liquid. It really is as simple as, opening it, using it and then throwing it away.
This vape pod is pocket friendly with a lightweight design, portable and ready to accompany you wherever you go, providing you with a vaping experience like no other. The BM600 Red Apple Ice Vape Pod is a must have.
The Elf Bar Lost Mary BM600 disposable vapes are a great brand with a concentration ratio of 50% VG  and 50% PG. Only the highest quality food flavourings and salt nicotine are used. A perfect vape device for on the go MTL ( Mouth To Lung ) vaping!
FLAVOUR PROFILE:
SPEC:
2ml E Liquid Tank
Up To 600 Puffs
2% Nicotine
Stylish Vape Kit Design