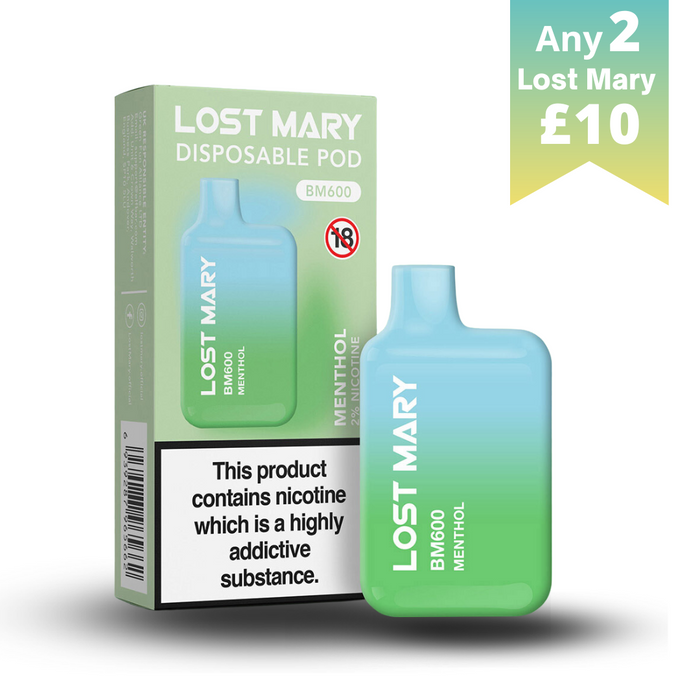 Menthol Lost Mary BM600 Disposable Vape 2%
Original price
£5.99
-
Original price
£5.99
This fantastic Menthol flavour Lost Mary BM600 vape device is ideal for lovers of the refreshing joys of pure, unadulterated menthol. Crisp, clean and invigorating from your very first vape, the cool, icy menthol helps waken the senses and offers an exceptionally smooth and uplifting experience with a subtle, sweet mint note that lingers in the background. From the labs of pioneering vape makers Elf Bar come these fabulous new Lost Mary BM600 disposable vape devices.
These premium disposable vape devices feature a unique bottle-shaped design that sits comfortably in the hand and slips easily into any pocket or compartment.
Every Lost Mary BM600 contains 2ml of delicious e-liquid in a variety of exquisite flavours, and because they use a nicotine salt formulation, they're able to satisfy your cravings almost instantly. There are no buttons to press, tanks to fill or coils to change, the Lost Mary BM600 disposable vape device works right out of the packaging and can be operated by simply taking a puff on the comfortable mouthpiece.
As a fuss-free, lightweight and extremely satisfying vape device, the Lost Mary BM600 disposable vape is a great vape for newer vapers to experiment with vaping, while more experienced vapers will appreciate having a super-portable and great-tasting device to have as a back-up or to supplement their usual vape kit. 
Specification:
MTL Disposable Pod Device 
2ml capacity 
Nicotine Salt 20mg 
AutoDraw activation