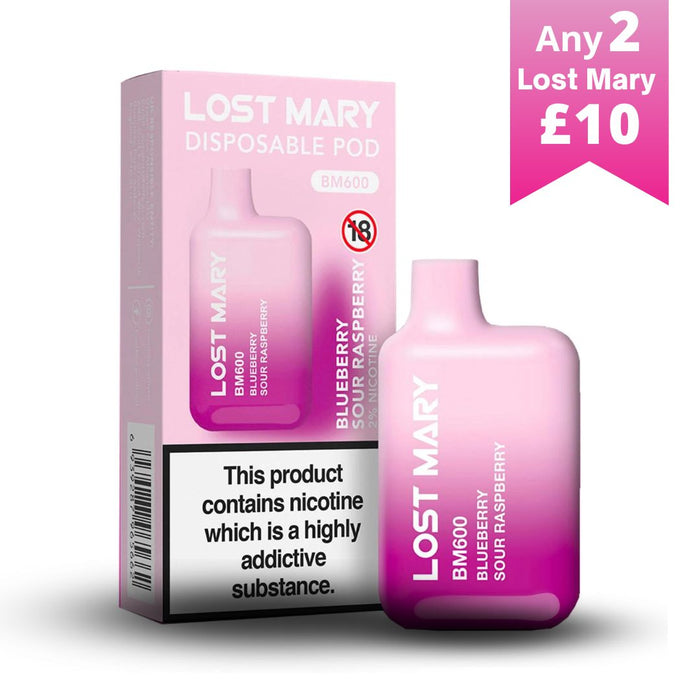 Blueberry Sour Raspberry Lost Mary BM600 Disposable Vape 2%
Original price
£5.99
-
Original price
£5.99
The Blue Sour Raspberry Lost Mary BM600 Disposable vape is a sweet and sour combination of blueberry and raspberry with a touch of sherbet.
Features:
Beginner-Friendly Disposable Vape
600 Puffs - Outlasts 20 Cigarettes
Inhale Activated
Range Of Flavours
20mg Nic Salt
2ml E-Liquid
Each Lost Mary BM600 features inhale activation technology, so you won't need any buttons or menus. All you need to do is inhale on the mouthpiece, which will activate your device and it'll then deliver an MTL (Mouth To Lung) vape. That means that when you inhale, you'll experience a discreet amount of vapour that mimics the feel of a cigarette.
The 20mg salt nicotine e-liquid inside produces a smoother throat hit and absorbs faster for a quicker craving satisfaction. You'll also find that there is a wide range of different fruit and menthol flavours available for when you want to change things up. Blueberry Sour Raspberry is a bold fruit vape that balances sweetness with some truly tangy notes.
Contains:
Lost Mary BM600 Disposable Vape Device