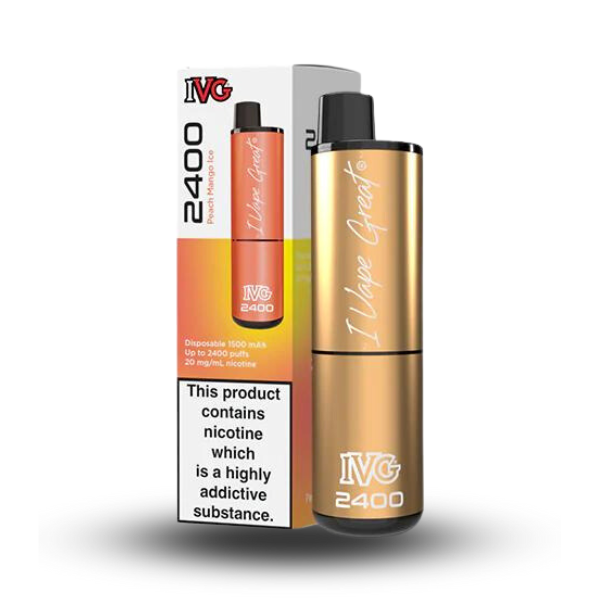 Peach Mango Ice - IVG 2400 Disposable Kit
Original price
£13.99
-
Original price
£13.99
Experience the delicious combination of sweet peach and juicy mango with a touch of cooling menthol with the IVG 2400 Disposable Kit. Enjoy a fruity and cooling menthol flavour combined in one device.
The IVG 2400 Vape Disposable Bar provides up to 2400 puffs with its 4 x 2ml prefilled pods. When a pod runs out, simply twist the device, and begin vaping again with a new pod.

The built-in 1500mAh battery delivers enough power for 2400 puffs. Each device is pre-filled with 20mg salt nicotine, which gives a smooth throat hit as well as a boosted mouth watering flavour. Nic salts absorb faster than normal nicotine shots, offering immediate relief from nicotine cravings. The 2400 disposable is 75% more environmentally friendly than normal disposables since it reduces the use of plastic and battery waste!

These convenient disposable devices are draw activated, which means there are no complicated buttons or menus to navigate. Simply inhale on the mouthpiece to begin vaping!

Features:
Up to 2400 Puffs
20mg Salt Nicotine
1500mAh Battery
Draw Activated
4 x Mesh Coils
Revolving Pod System
4 x Pre-filled With 2ml of E-liquid
TPD Compliant
 CONTAINS:
1 x IVG 2400 Disposable Device