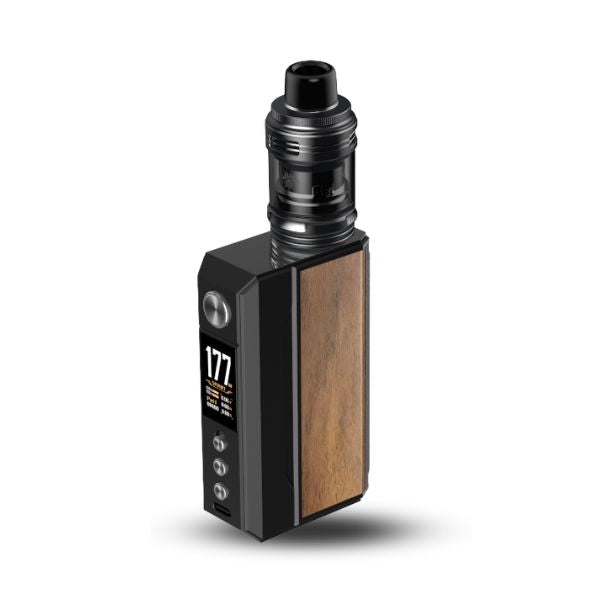 Voopoo Drag 4 Kit
Original price
£59.99
-
Original price
£59.99
Voopoo Drag 4 Kit by Voopoo, Vape Kits
DRAG 4 is the 4th Gen of VOOPOO DRAG IP in advanced MOD, features a timeless design incorporated with solid woody elements paired with an ingenious UFORCE-L Tank of leakproof top airflow. And the service life is improved by using PnP Dual In One coil allowing you to enjoy dense clouds and delectable flavours while reducing your long-term vaping cost.
Top Air Inlet Leakage-Proof

Dual In One PnP Coils

Eco Energy-Saving Mode

3A Type-C Charging
Multi-Function Switch

Dual 18650 Battery (not included)
NO LEAKING FUSS MORE SMOOTH FLAVOUR
UFORCE-L TANK's innovative 3-hole air inlet delivers a balanced and sufficient airflow for each puff. Meanwhile, the top air inlet avoids condensate and oil leakage effectively.
DUAL IN ONE COIL TECH
Richer Taste, Dense Cloud, Longer Lifespan
HEAT SINK DESIGN, LESS HEAT ACCUMULATION
The heat sink design decelerates the heat accumulation of vapor and mouthpiece effectively. The vapours temperature is just right and comfortable!
EASY, FRENDLY, FABULOUS
SLIDE IT, TO BE FREE
With the amazing multi-function switch, you can define QS lock to lock wattage / lock device / turn power on (off) as your will. Soooo easy, soooo friendly and soooo fabulous!
LESS CHARGING TIME
Drag 4 uses the highest standard 5V/3A charging technology of the industry. Less charging time, stronger battery life.
UP TO 650+PUFFS
For non-stop vaping
UP TO 24HOURS
For all-day using
10%+USING LIFE
Prolonged by Eco mode
MORE ENJOYMENT
Saving-time ECO mode saves your anxiety and brings more enjoyment. You can choose whether to enter the ECO mode at any time. Or when the battery capacity is 20% left, the interface will display the ECO mode interface.
GENE.TT 2.0,
THE MASTERMIND BEHIND IT ALL
GENE.TT 2.0, the latest member of GENE FAMILY, has the most powerful performance, fast ignition and high boost. It also provides multiple vaping modes and bring you the vaping experience like never before.
NEW TC MODE
After mounts of user surveys, we found the 4 most commonly used heating wire materials and developed the new TC mode to match them. Drag 4's new TC mode accurately identifies these 4 most commonly used heating wire materials and meets the specific need for DIY users.
BIG THRILLS, SMALL BILLS
UFORCE-L TANK is compatible with all PnP coils including RBA coils. By pulling and pushing easily, you can enjoy a variety of fun and affordable vaping experiences.
Specification:

Tank Parameters:
Size: 25.5*58mm
Name: UFORCE-L TANK
Capacity: TPD: 2ml
Material: Stainless Steel+Pyrex
Resistance:
0.2Ω (PnP-TW20)
0.15Ω (PnP-TW15)
Mod Parameters:
Size: 52.4*25.4*89mm
Name: Drag 4
Material: Leather + Zinc Alloy + Finish (Resin, Walnut or Rosewood)
Output Power: 5-177W
Output Voltage: 3.2-8.4V
Resistance range: 0.05-3.0Ω
Charging voltage: 5V/3A
Battery : 18650*2 (Not included)
What's In The Box?
DRAG 4 Device
UFORCE-L Tank 2ml
PnP-TW20 0.20ohm coil
PnP-TW15 0.15ohm coil

Silicon Rubber Pack
Type-C Cable
User Manual
Requires 2x 18650 Batteries (Not included)