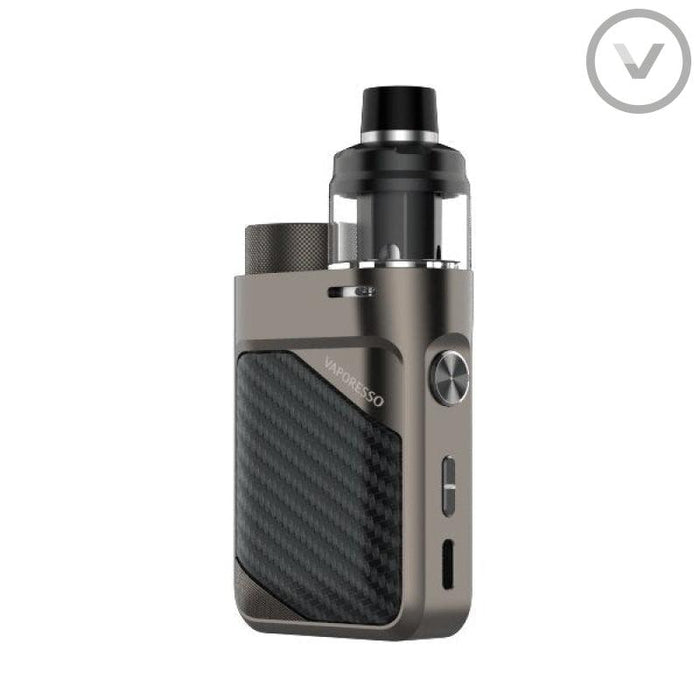 Vaporesso Swag PX80 Pod Kit
Original price
£34.99
-
Original price
£34.99
The first thing you'll notice about the Vaporesso Swag PX80 is it's stunning aesthetic. The sleek, ergonomic device, formed from zinc alloy and leather, is available in 5 different colours to suit your personal style and is compact enough to fit comfortably in your hand for easy usage.
The inclusion of a 0.96" screen (which is cleverly integrated into the holographic IML panel) features a user-friendly interface and allows you to keep track of and tailor your vaping experience - customising everything down to the theme colour of your interface.
For versatile vaping, enjoy a smooth, adjustable airflow feature that is easily controlled by simply rotating the pod to provide precise airflow suited to your preference, whilst the included Axon chip means you can fire and use your device in 0.001 seconds.
Delivering anywhere between 5 - 80W of power, the PX80 is powered by a single, long-lasting 18650 battery (not included) meaning you don't need to worry about running out of power - when your battery runs out of charge you can simply swap out with a charged one and keep vaping.
With e-liquid leakage being a bug bear for many vapers, the included Swag pod boasts a range of convenient design features to help eliminate mess and wastage. With improved anti-leakage design and a triple-silicon framework, users can even remove and replace the coils whilst the pod is full - reducing e-liquid wastage. For clean and easy coil replacement, the kit comes with a simple design - simply align the marks on the pod, press the drip tip and remove the coil. Meanwhile, the use of anti-bacterial, non-woven cotton and self-circulating e-liquid helps ensure great flavour.
Specification 

Capacity: 2ml
Battery: External 18650
Output: 5 - 80 W
Display: 0.96" TFT Screen
Dimensions: 99.7 x 47.9 x 25.1 mm
Charging: USB-C
Filling: Bottom Filling
This kit takes the GTX Coils