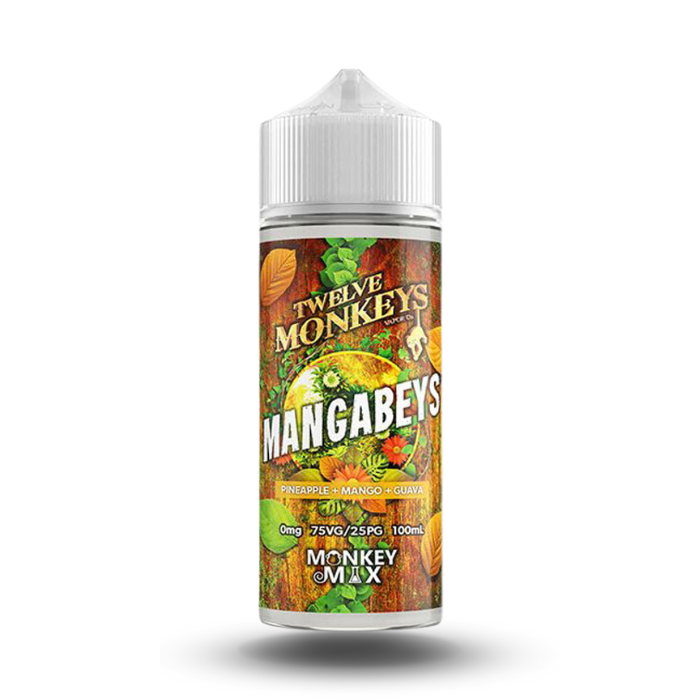 Twelve Monkeys - Mangabeys 100ml Vape juice
Original price
£19.99
-
Original price
£19.99
Twelve Monkeys' Mangabeys eliquid is a delicious blend of pineapple, guava, and mango, finished with a selection of authentic Caribbean fruits. Crafted to perfection, this 50ml shortfill bottle is perfect for a sunny day vaping escape.
Specifications:

This awesome vape liquid flavour is a nicotine-free e-liquid shortfills which means it is fully compliant with all TPD rules and regulations and has a concentration ratio of 65% VG ( Vegetable Glycerine ) and 35% Mixed PG ( Propylene Glycol ) and high-quality food flavourings. The perfect blend for sub ohm vaping!
The Twelve Monkeys eliquid comes bottled into a  120ml chubby gorilla bottle and contains 100ml of 0mg nicotine e liquid. That leaves a 20ml empty space for adding a nic shot of your desired strength. Adding 2x 18mg Nicotine shot will result into 120ml of 3mg strength vaping e liquid.