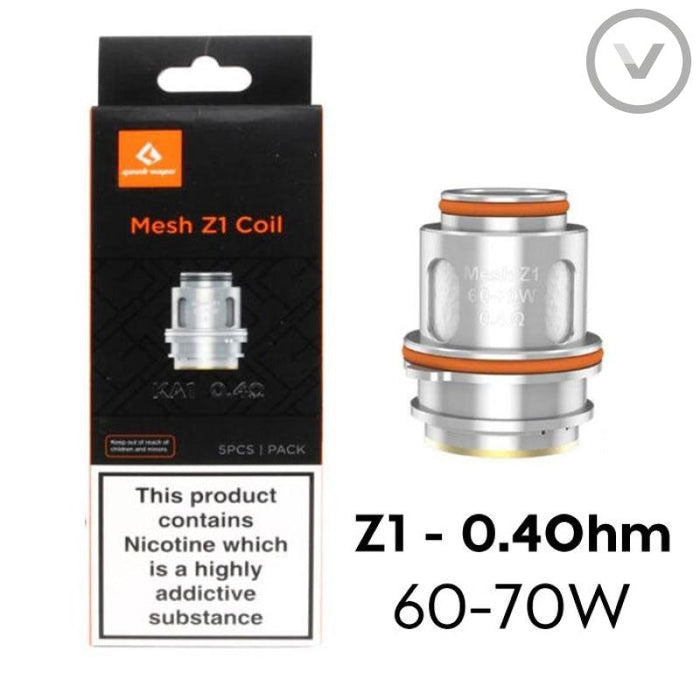 Geekvape Z Series Replacement Mesh Coils
Original price
£11.99
-
Original price
£11.99
Geekvape have sat high in the ranks in the UK for years now, consistently bringing us top quality mods, tanks and RDA's that become fan favorites worldwide.
Now with the release of the Geek vape Zeus Sub-Ohm Tank with the Z1 & Z2 coil they've created something astounding once again.
Compatibility
Geekvape Zeus Subohm Tank

Geekvape Z Tank

Geekvape Zeus – Z1 & Z2 Mesh Replacement Coils (5 Pack)
These are the Geekvape Mesh Z1 & Z2 coils, a full flavoured mesh coil that are made for the Geekvape Zeus Tank. They promise crisp and rich flavour with dense cloud production.
The Geekvape Zeus Z1 & Z2 coils have now improved the airflow control to boost flavour to the absolute maximum with this new Zeus Tank and the new coils are great to accompany this change perfectly
Features
Mesh Z1 Coil - 0.4ohm KA1 Mesh 60w - 70w
Mesh Z2 Coil - 0.2ohm KA1 Mesh 70w - 80w 
Contents
Package Contains:

 

1 x 5 Pack of Geekvape Zeus Replacement Coils