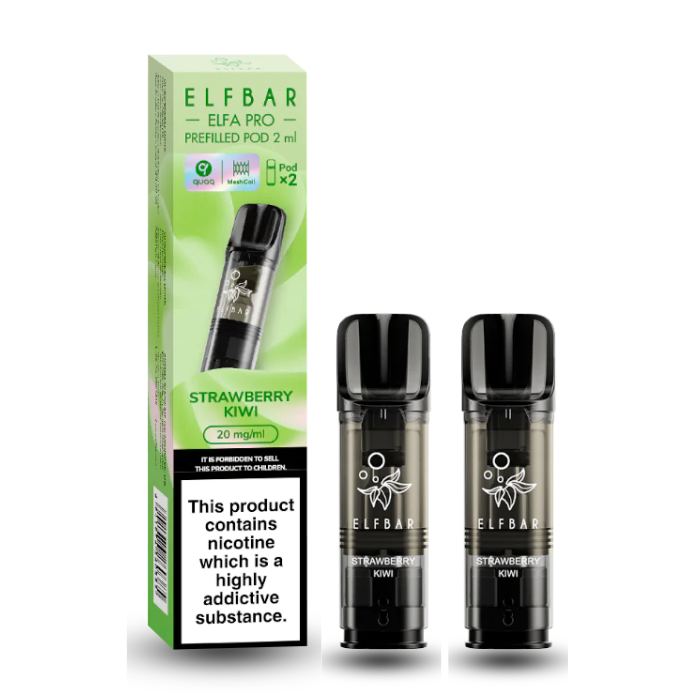 Strawberry Kiwi - Elfa Pro Pods By Elf Bar
Original price
£5.99
-
Original price
£5.99
Enjoy a truly satisfying vape experience with Elfa Pro Pods Strawberry Kiwi. This delicious re-fillable pod contains 20mg of salt nicotine, expertly blended together with a perfect harmony of sweet strawberry and tangy kiwi flavours. Experience a memorable vape every time with this fruity and flavourful combination.
KEY FEATURES:
Strawberry Kiwi Flavour
2 Pods Per Pack
2ml E-liquid
20mg Salt Nicotine
50VG/50PG
Up To 600 Puffs Per Pod
Compatible With The New

 

Elf Bar ELFA Pro Pod Kit
MORE ABOUT THE ELF BAR ELFA PRO PODS
Allow us to introduce the latest marvel from Elf Bar - The Elf Bar Elfa Pro Pods! These cutting-edge pods come preloaded with 2ml of e-liquid infused with 20mg of nicotine salts, purpose-built for seamless compatibility with the Elf Bar Elfa Pro Pod Kit.
The Elfa Pro Pods have also been designed fit your existing Elfa Pod Kit, ensuring a versatile vaping experience.
With a harmonious 50VG/50PG ratio, these pods are a testament to Mouth to Lung (MTL) vaping, delivering a discreet vapor output reminiscent of smoking a traditional cigarette.