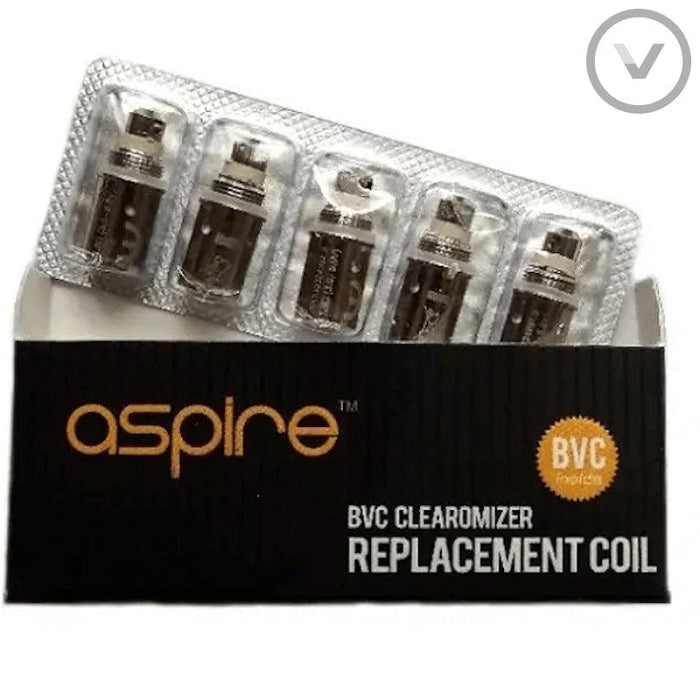 Aspire BVC Replacement Coils
Original price
£8.99
-
Original price
£8.99
Pack of 5 genuine replacement Aspire BVC coils 1.8Ω Ohm.
Experience the ultimate vape with the brand new bottom vertical coil's (BVC's) from Aspire. The BVC utilises the latest atomiser technology in order to prolong the life of your coils & deliver you the best possible vape.
For more information, please see the ulitmate guide to clearomisers post here.
If you're not sure which resistance to choose, or this is your first replacement coil purchase for the Aspire CE5, we recommend you choose the 1.8ohm coils.
Please note that these coils are suitable for use with the Aspire CE5 and ET-S clearomisers. If you have a Nautilus Mini tank, you will need Nautilus Coils.
RECOMMENDED OUPUT
1.6

Ω

 

coil: 3 - 4.2V
1.8

Ω

 

coil: 4.2 - 5V
COMPATIBLE DEVICES
Aspire BVC coils work with the following:
Aspire BVC CE5 Clearomiser
Aspire BVC ET-S Clearomiser
Aspire K2 Tank
Aspire K1 Plus Tank
Aspire Spryte Pod
Aspire K-Lite Tank
Resistance - Ohms/Ω
1.8Ω Ohm - 10W-14W
1.2 Ohm  (Spryte Coils)
1.6 Ohm - 15W-20W
Sold at VapeDirect.com